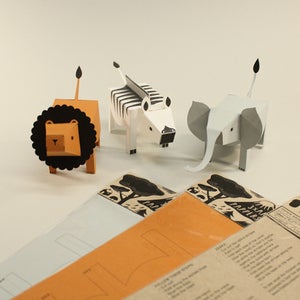 €

13.00
3 sheets of paper animals. Cut out and fold up and you'll get your own lion, zebra and elephant! Printed on 160 gram paper. The size of the sheets are 210x148mm, packed signed and numbered. Limited edition of 100.
On the back of the package is an instruction manual for how to fold and glue the animals.
To see more pictures of animals and packaging please visit my blog!
If you have any questions, please send an email to:
fideli.sundqvist@student.konstfack.se
@--))---